Going by our experience that we have lost some equipments ( computers and printers) of the church, over time, because we do not yet have doors and windows to secure our assets , this appeal is considered necessary. The testimony behind this temple is powerful and it has been undertaken by the covenanter. You will be told of it at an appropriate time.
The slow pace of the FINISHING has been due to funding an outreach ministry, in most cases due to its nature, as "church without walls".
So incidentally YOU are the church within the invisible wall.
It is the hope that your support will come at this stage of the building. God will bless you. We want you to be part of this great assignment.
Let me tell you I am humbled by your willingness to go this journey with me and look forward to seeing you on the date of presentation as we trust the Lord. AMEN
ESTIMATE FOR INTERNAL FINISHING OF CHURCH HALL.
Section A :  Iron Doors and Windows and burglary proofs
(Item 1) Iron doors 
 1 main door to church hall 5 x 7 = N38000
3 doors of 3 feet by 7 feet @ 22,000 each = N66,000.
(Item 2) iron Windows 
9 Windows with arch @ N21000 each = N189,000.
2 curved staircase Windows @ N9,000 each = N18000.
(Item 3) Burglary for Windows.
 (1) burglary for Window 4 x 3 @ N5000 = N5000.
(3) burglary for altar Windows 3×4  @ N5000 each = N15,0000.
( Item 4 ) staircase pillar and half door  = N10,000.
Total cost of iron work in church hall = N341,000
SECTION B:  TILING OF CHURCH HALL:
Area of church hall 186.21 square meters.
Estimated number of tile crates = 125 crates.
125 crates @ N2500 each = N312,500.
Labour @N350 per square meter of 186.21 squares metres = N65,174
20 bags of cement @ N2500 considering inflation = N50,000.
Colour cement 10 bags @ N1,100 per bag N11,000.
Total cost of Tiling church hall = 438,774.
C.  ALUMINIUM  WINDOWS
To put remaining glasses to some Windows  already installed  estimated N50,000
Fresh aluminum Windows to be completed  N200,000.
Total cost of aluminum windows work = N250,000.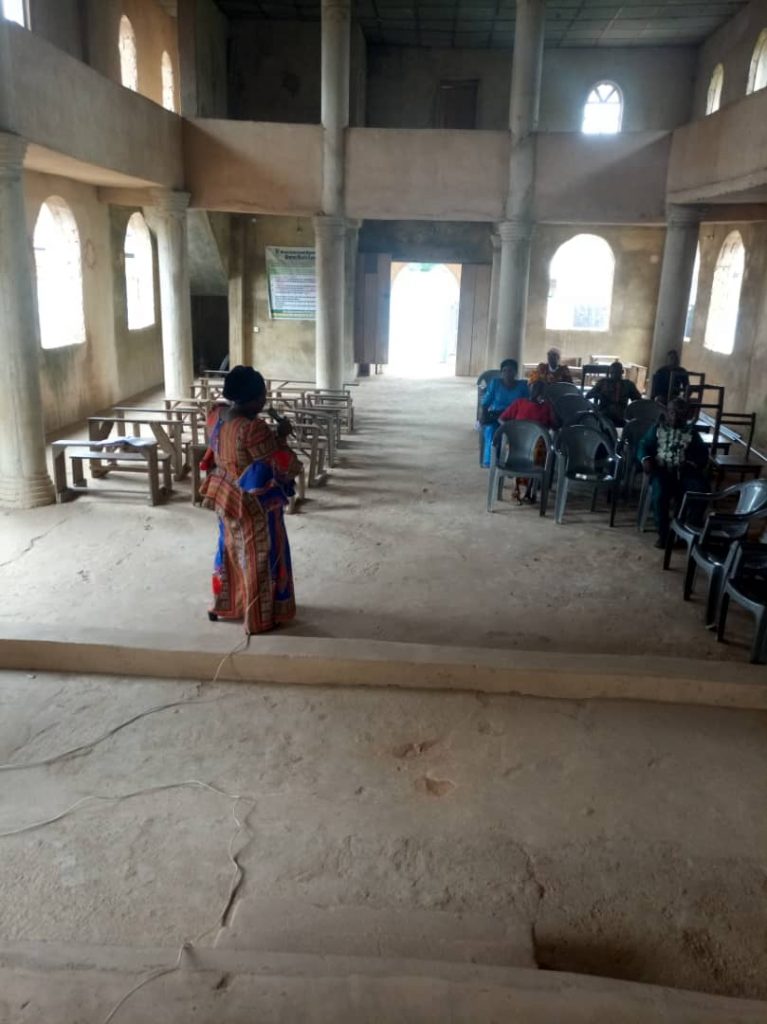 Section D: Interior and exterior painting
Estimated cost including Labour N250,000
Total work for the church hall 
(1) Section A :  iron doors and Windows = N341,000
(2)  Section B  : Tiling of hall = N438,774
(3)  Section C Aluminum window work  =  N250,000
(4) Section D :  Estimate for interior and exterior painting  = N250,000                                    
Grand Total = N1,279,774

This work is expected to be finished, to present the Covenant Bethel Temple during the 53rd anniversary of Rev. Prof. P. C. Nnaocha during Easter celebration in year 2020 by the special grace of God. Pray also along with us.
This is given to you as a special person to the Lord God, that you are someone I rate in my human mind as led by the spirit that the Lord will accept your partnership in a special project of a Covenant House.
This ministry will appreciate that you indicate what you wish to support this project with from this time to Easter period 2020 when the Temple will be presented to the Lord.
No gift wil be despised please and note the following:
(i) 9:7 Every man according as he purposeth in his heart, so let him give; not grudgingly, or of necessity: for God loveth a cheerful giver.
9:8 And God is able to make all grace abound toward you; that ye, always having all sufficiency in all things, may abound to every good work:
9:9 (As it is written, He hath dispersed abroad; he hath given to the poor: his righteousness remaineth for ever. (2 Corinthians 9: 7 – 9)
(ii) "The hands of Zerubbabel have laid the foundation of this house; his hands shall also finish it; and thou shalt know that the LORD of hosts hath sent me unto you. For who hath despised the day of small things? for they shall rejoice, and shall see the plummet in the hand of Zerubbabel with those seven; they are the eyes of the LORD, which run to and fro through the whole earth." (Zechariah 4: 9 -10).
Brethren, we will be consistent and work with what we receive to augment the Ministries' internal efforts. May God bless you.
Thanks for accepting to support this appeal and please request your friends to support us. We are highly obliged.
All gifts will be received for this purpose through
UBA Umuaka Branch
A/C 1005560834
For Miracle Valley Gospel Ministries.
Sincerely.
His servant .
Rev. Prof. P .C. Nnaocha
+2348037179735
outreach.mvgm@yahoo.com.
Website: www.mvgmng.org
April 21st 2019.